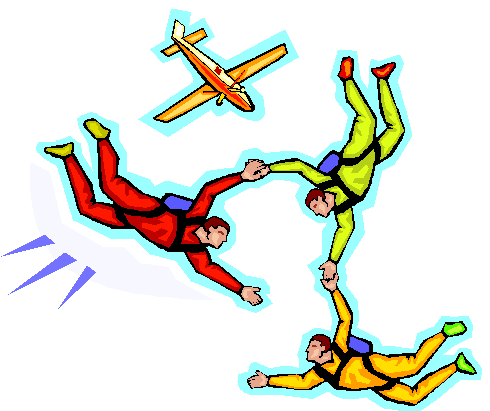 Skydiving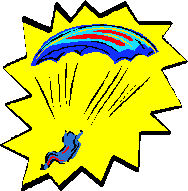 ---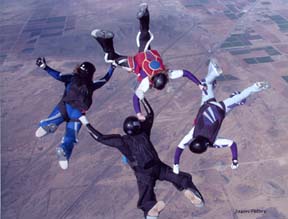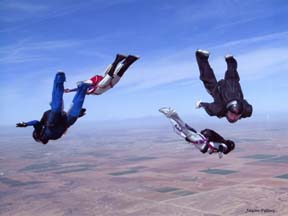 That's me in the Blue jumpsuit! These were taken by Jason Peters over sunny Skydive Arizona at the AirSpeed Skills Camp.
Andi's sport of choice is skydiving. That's right, she loves to jump out of planes! How did she get into that, you ask? Well, here's the story.
The summer after my freshman year at the Air Force Academy, I took the basic freefall course they offered, AM-490. Since I loved that so much, I decided to spend my sophomore year upgrading (basically, learning how to really skydive and be a jumpmaster) to be on the Academy's parachute team, The Wings of Blue. I was on the demonstration portion of the team, which meant I got to go to air shows and events all over the country and jump with tons of people watching. As a team member (#096), I was also responsible for leading and teaching the basic freefall course, which was the best part. I loved to see the look on a student's face after they've just landed from their first skydive EVER. Here's some pictures:

This is the Wings of Blue patch. Here's to you...

The DeHavilland Twin Otter is one of the best jump planes out there, and what we used on the Wings of Blue.

One of the things we got to do is bring the flag into USAFA home football games...

Well, those were the glory days, when the jumping was free and plentiful. Unfortunately, I had to graduate. I bought my own gear, a Sabre 120 in a Vector II harness, and began to jump at civilian drop zones. I get a lot fewer jumps now, especially here in New Mexico, where there's only one drop zone, with two Cessna 182's. They can only take 4 people at a time. which mean's no big ways like this one: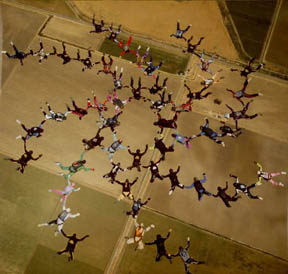 Next summer I'd like to get back to jumping a lot more, and maybe even try to compete on a four-way team. I'd love to compete in something I'm pretty good at. Here's a four-way team in action...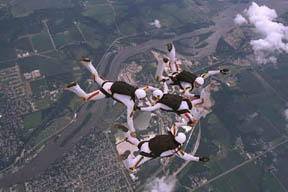 If you'd like to try skydiving, look under "parachute" or "skydiving" in your yellow pages to find a local drop zone. I would recommend a tandem for your first jump, then AFF if you want to continue. Good luck and have fun!

[Home] [News] [About Us] [Our Home] [Church] [Hobbies] [Leo] [Travel] [Links] [Guest Book] [E-mail]