WOOF!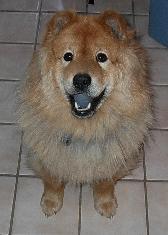 Leo's Page



Hi everybody! My name is Leo, and I live in New Mexico with my Mom and Dad (I think other humans call them Andi and Sean). I am already 5 years old, and I have lived with my Mom for 3 years. She saved me from the pound! I didn't like that place too much...it was sad to see all the other dogs and cats (yum!) that didn't have moms and dad's, either.
But Mom came and saved me! It took us a while to get adjusted to each other, especially since we lived in a small place with no yard where I couldn't run free. But we fell in love anyway!
Then a big change happened! Mom started spending time with a male human, and not as much time with me. I was sad at first, and mean to the male human, but then I got used to him too, and he became my Dad! I'm glad he became my dad, because not too long after that we went on a big, long car ride and moved to a place where I could run free in my own big yard! If you want to see the pictures, just click on them for the bigger ones.
The best thing has happened...we got snow! I LOVE snow! I love to play in it and jump in it and roll in it and eat it. It is my very favorite thing! And I don't get cold because of my thick fur coat. Here's some recent pictures of me playing in the snow!

I love to play in the snow with daddy!

I don't mind if I get snow all over me. I can't feel it anyway!

Sometimes daddy lets me chew on him...I like that, too!
That's all for now...Stay tuned for more pictures of...ME!
[Home] [News] [About Us] [Our Home] [Church] [Hobbies] [Leo] [Travel] [Links] [Guest Book] [E-mail]