Sean and Andi's
Home on the Range
Our little claim on the Web...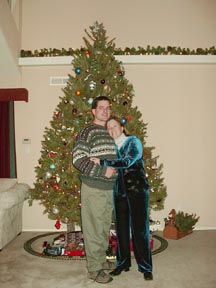 Hi there! Welcome to our home on the web. We're Sean and Andi McNew, and we set up this website to tell you a little about ourselves and keep our friends and family updated on our lives in the beautiful Land of Enchantment, New Mexico. We'll tell you about what we've been up to, our hobbies, and our baby, His Highness the chow chow, Leo! We hope you enjoy yourself!

We'd love to hear from you. Please sign our guest book!
Questions or comments? Send us an E-mail!
[Home] [News] [About Us] [Our Home] [Church] [Hobbies] [Leo] [Travel] [Links] [Guest Book] [E-mail]